one. Tuesday. Yay! Today is my last day at my current job. It's been 2 years, time has gone by really quickly. Feels like yesterday I just started, but now it's time to start a new chapter in my life. I'm super excited for my next job. My goals, other than to do a great job, is to dress up for work every day. This might seem superficial or like nothing to some of you, but this is a big deal for me. I've been dressing like a slob to work for far too long. I'm glad that I finally have a job where I can get dolled up!
two. The other day I was in the kitchen cooking with my mom. I rarely do that! I'm also somewhat of a noob in the kitchen. My mom yelled at me several time. I wasn't chopping this correctly or I wasn't washing stuff properly. Also, I was de-seeding some chili peppers with my bare hands. Well for the rest of the night my hands were burning.
three. I miss being on vacation. My favorite part of staying in a hotel? The little tiny soaps. Am I weird?
four. I'm behind on blogging some reviews of my subscriptions. Grr. I just haven't had the time lately.
five. Lately I've been craving savory food, gasp! Yes, I'm a sweets girl but now I'm lovely the savory stuff. Who am I turning into?! Also, I haven't had chocolate for 2 weeks now. That's a record!!
six. Been marathoning season two of 2 Broke Girls. I love that show! Max is my fave character. I just love her quips.
seven. Lin and Amber are hosting another swap. Perfect Night In. Basically you send your partner a package with the theme of staying in. Like at home mani or movie night etc. Cute and fun idea!!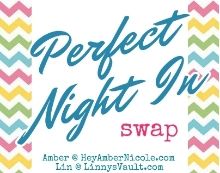 eight. Hubs is starting Crossfit this month. I'm excited for him and I hope he enjoys it. However, I have a feeling he's going to force me to join as well. Shit.
nine. I'm schedule for a mani today. YAY!! Get mah nails done yo. Need to look perrrrdy for mah new job.
ten. The end.